Democracy without Cliteracy Phallusy, Natural Law No. 57
35 x 10.6 feet 
Vinyl, Billboard

Located in New Mexico on I25 Southbound near mile marker 247.2, immediately after the Algodones exit at mile marker 247. — in New Mexico.

Photography by Badr Z. Sfeeran
Posted on Tuesday, November 12th 2013
Hello Ms. Wallace. I just watched the HuffPo article on your Cliteracy movement. Quite powerful. Had quite an effect on me, and I'm a hetero guy. What can I do to become more cliterate?
Asked by fleetside58

You rock. Just being interested in CLITERACY makes you a welcome member of the movement. For tips, check out Dan Savage and Betty Dodson. For making the world a better place, talk about the CLIT and give props to it. It sounds like you are already invested in treating the clit on equal par with the penis. That is already changing things in big ways.  
To your happiness!
Sophia
Posted on Wednesday, October 23rd 2013
So once a guy told me, after pounding into me for what felt like forever, "You come different." Not different, Dummy, you're just not doing it right! This isn't porn!!! He refused to be taught, and therefore probably remains illcliterate. I don't need to ask you anything, but instead want to thank you for this brilliant idea. Pleasure equality.
Asked by emmycopps

That guy needs to read this. You deserve better! To your happiness!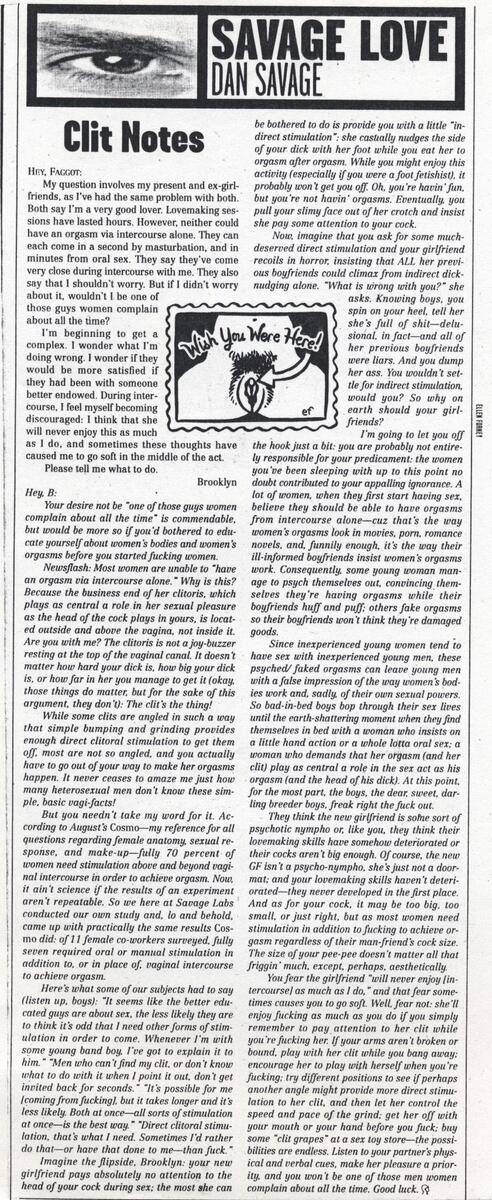 Posted on Wednesday, October 23rd 2013
HI Sofia. You have absolutely no idea how much your art and your work has inspired me and made me feel like someone finally understands. You know how many times my boyfriend has left me with the "clit blues" and he's all good? And you're right, I still haven't come clean to him because I feel ashamed and also thought maybe it was my fault. You've truly made me realize that I NEED to come clean and tell him what's going on. Thank you SO MUCH.
Asked by chasingpinkcars

Thank you for sharing. You deserve to be happy! To be free! and for bodies pleasure to be on equal par with anyone lucky enough to be your lover. Women's bodies are not vessels for masturbation. Anyone who treats them as such is living in the past. 
To your happiness!
Sophia
Posted on Monday, October 21st 2013
Posted on Sunday, October 6th 2013
Got your Tee !! SupaDUpaYupa happy ;)
Asked by thebrokenface

Yesssssss! Pictures please.
Posted on Tuesday, September 24th 2013
blended schools the French on CLITERACY.
"Si le clitoris était accepté et connu, l'industrie du porno s'effondrerait. Elle devrait complètement se réinventer en tout cas. Il ne serait plus question de pénis qui doivent pénétrer un trou aussi fort, aussi vite et aussi agressivement que possible."
Posted on Friday, September 20th 2013
DMorgen.be helps spread CLITERACY around the globe.
"Cliteracy' verbeeldt het analfabetisme en de onwetendheid over het vrouwelijk lichaam."
Posted on Friday, September 20th 2013
iafrica.com gets CLITerate.
"It is a curious dilemma to observe the paradox that on the one hand the female body is the primary metaphor for sexuality, its use saturates advertising, art and the mainstream erotic imaginary. Yet, the clitoris, the true female sexual organ, is virtually invisible."
Posted on Friday, September 20th 2013
creem magazine posted a longer version of the CLITERACY interview that appeared in the print edition as well as a video.
"On it's face, CLITERACY 100 Natural Laws may appear to be focused on sexual pleasure. In fact, the target of the work is much broader. CLITERACY explores the effect when one's body is constructed primarily to benefit a more powerful group through denying its autonomy and anatomy, vilifying its pleasure and controlling its reproduction. Using large scale, minimalist text as form, CLITERACY de-naturalizes the way that the female body is constituted within an economy of lack."
Posted on Friday, September 20th 2013
CLITERACY on Bust Magazine's site.
"A little more than ten years ago, the human race had only a vague notion of the scientific workings of the clitoris (shout out to my girl, urologist Helen O'Connell!). Now, one woman is taking it upon herself to make sure everyone knows."
Posted on Friday, September 20th 2013