Happy to be in such great company.
Lady Gaga's Creative Producer, 

Nicole Erlich

, will be curating a premiere Art Auction, honoring some of the artistic world's most influential female artists in conjunction with auction house Paddle8. All proceeds garnered will be going to the Born This Way Foundation, founded by Lady Gaga and her mother, 

Cynthia Germanotta

 … The female influencer artists confirmed to be a part of the auction are: Lady Gaga, 

Hilary Harkness

, 

Cass Bird

, 

Amber Arbucci

, 

Deborah Willis

, 

Floria Sigismondi

, 

Millie Brown

,

 Sophia Wallace

, 

Natalie Frank,

 

Nina Chanel,

 

Sophia Muller

,

Peggy Sirota

 and 

K8 Hardy

."
Posted on Tuesday, December 3rd 2013
"CLITERACY's focus on the body is not merely to "embrace sex positivity," … The project's aim is much larger. It seeks to liberate female, feminized and pathologized bodies from being denied citizenship by having the language of those bodies continuing to function as the intractable site of shame."
By Sophia Wallace

As an artist, my job is to explore an idea aesthetically and then share my work with the public. In this light, it is my expectation that audiences will engage with CLITERACY in their own contexts. Yet some of the contexts that have been projected onto CLITERACY are then written about as fact. While I appreciate critique, I do worry the point of the CLITERACY project is in danger of being misrepresented and grossly misunderstood. I'm grateful for the opportunity through The Feminist Wire to clarify my intentions in creating this conceptual work of art. CLITERACY, 100 NATURAL LAWS is a project concerned with citizenship and body sovereignty through the medium of text-based objects, unauthorized street installation and interactive sculptural forms. In this work, I intentionally focus on female genitals. They are the means – often the site itself – by which women (and feminized bodies) are subjugated – legally, symbolically and […]
http://thefeministwire.com/2013/11/artist-sophia-wallace-responds-to-cliteracy-critiques/
Posted on Saturday, November 30th 2013
Extremely in depth interview with the inspiring JC Gonzo on CLITERACY and my practice up till the present.
"By the time I got to CLITERACY, I felt limited with photography and its obsession with the beautiful, the young, the skinny and so on. I couldn't do what I needed to do with pictures, hence the clit-splosion with text and 100 Laws. I'm still taking pictures and I love it, but I don't know if I could ever convey a fraction of what I need to with them."
Posted on Tuesday, November 26th 2013
Posted on Monday, November 25th 2013
by Sophia Wallace
Exclusively available at Art Basel Miami
Auction by Paddle 8
Suck a Fat Clit, 2013
Stencil used by the artist for anonymous street works in CLITERACY project.
Laser cut cardboard, Spray paint
30 x 40 inches
Posted on Friday, November 22nd 2013
Democracy without Cliteracy Phallusy, Natural Law No. 57
35 x 10.6 feet 
Vinyl, Billboard

Located in New Mexico on I25 Southbound near mile marker 247.2, immediately after the Algodones exit at mile marker 247. — in New Mexico.

Photography by Badr Z. Sfeeran
Posted on Tuesday, November 12th 2013
Hello Ms. Wallace. I just watched the HuffPo article on your Cliteracy movement. Quite powerful. Had quite an effect on me, and I'm a hetero guy. What can I do to become more cliterate?
Asked by fleetside58

You rock. Just being interested in CLITERACY makes you a welcome member of the movement. For tips, check out Dan Savage and Betty Dodson. For making the world a better place, talk about the CLIT and give props to it. It sounds like you are already invested in treating the clit on equal par with the penis. That is already changing things in big ways.  
To your happiness!
Sophia
Posted on Wednesday, October 23rd 2013
So once a guy told me, after pounding into me for what felt like forever, "You come different." Not different, Dummy, you're just not doing it right! This isn't porn!!! He refused to be taught, and therefore probably remains illcliterate. I don't need to ask you anything, but instead want to thank you for this brilliant idea. Pleasure equality.
Asked by emmycopps

That guy needs to read this. You deserve better! To your happiness!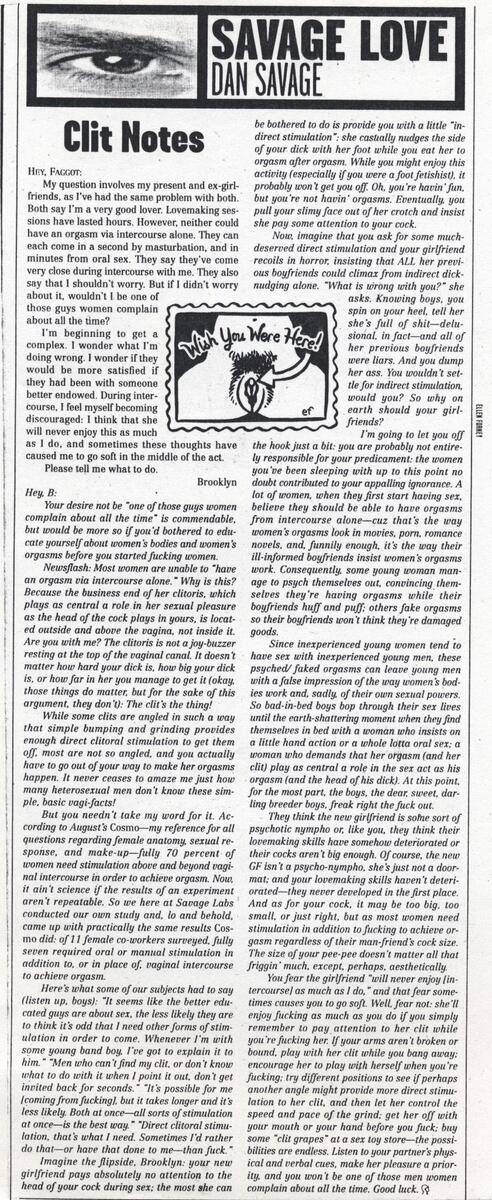 Posted on Wednesday, October 23rd 2013